LOS ALTOS TROPHY is PC Based using these software programs:
CorelDraw 11 – Photoshop – Adobe Illustrator
Camera Ready Artwork
Black & White at 600 D.P.I. resolution. No HalfTones. Rules/Outlines should be 1 point or larger.
Electronic Artwork
Files (Images/Logos) should be 600 D.P.I. BLACK AND WHITE (No Halftones) Vector or Illustrator Format. JPEG's are for viewing purposes. CD ROM's must be PC or Mac/PC Hybrid formatted.
Fonts – If you need to send fonts as outlines or curves (in cases where we do not have font) please inform us of font name and point size in case we need to match it or retype set copy. A faxed copy of artwork for visual reference will help us be certain that artwork opened matches what was originally created. Often programs substitie fonts if the exact original font is not installed.
Preferred File Formats
1. CorelDraw 11 2. Adobe Illustrator 8 3. Photoshop (.psd, .pcx, .tiff, .eps (PC ONLY))
File Compression
Files can be compressed with WinZip. Generally uncompressed files are preferred. Macintosh compression formats such as StuffIt (.sit) or Self Extracting Archives (.sea) are NOT SUPPORTED.
Unacceptable Artwork
Artwork in Microsoft Word format are NOT ACCEPTABLE. Images copied from web pages are of too low resolution to be used as workable art. PDF files (for viewing only) are NOT ACCEPTABLE. PDF files with embedded Illustrator files are acceptable. Additional example of unacceptable artwork are: Faxes, color Letterheads, Photocopies, Embossed imprints.
Additional Art Charges
Complex pieces or artwork of poor quality may require additional art charges to bring artwork to sufficient quality, strength, or size for final production.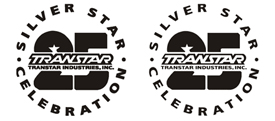 The image on the left is the original image. The image on the right was modified to compensate for laser expansion. White areas trapped between black areas tend to decrease and black areas expand.
---
Download as a PDF to keep as a file in your system.